Archive for July, 2007
Posted by julie on Monday, 30 July 2007, 16:11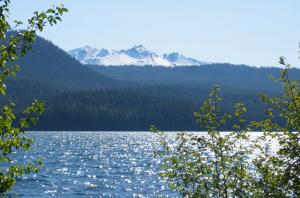 Diamond Peak has beckoned since I arrived in Oregon. An unlikely-looking volcano, resembling a slumbering beast with its improbably long ridgeline stretching for over a mile from north to south, you can see Diamond Peak, whenever it's not obscured by clouds, along Highway 58 from Oakridge past Willamette Pass, cloaked in snow two-thirds of the year. In my quest to climb some Cascades this summer, our friend, Larry, and I picked up some biodiesel and espresso at America's best filling station and hit the road yesterday. Larry, with his generosity, big grin, penchant for adventure, and supply of stories is darn near a perfect traveling companion. Although he wasn't present for any of them, Larry tells some detailed, frightening grizzly stories. Ask him about them.
We hiked in on trails 3699 and 3632 from a gravel Forest Service road on the mountain's south side. A crew, which I believe included our friend Chandra, had worked on trail 3632 the previous day, digging drainage ditches and generally making sure the trail didn't fall off the side of Diamond Rockpile. In a remarkably quick three miles, we reached Marie Lake, where 75 Scrambles in Oregon says to turn uphill through the trees. We did, as Chris and I had done two years ago in May 2005, but Larry and I later found out that this is not the best climbers' route, at least not when the ground is snow-free.
Following a ridge uphill, with Diamond Peak hovering to our left, we ran into a trail that wasn't supposed to be there. Hmm. After looking at the map, we realized that we had headed northeast instead of northwest, which is why Diamond Peak stayed to our left instead of looming ahead of us, so we took the trail northwest, the direction we wanted to head. Soon, we found a tree with a diamond-shaped metal trail marker, so we figured we'd ended up on the Pacific Crest Trail. Since we weren't on a climbers' trail and we knew where the PCT headed, we struck off through the trees toward the ridges to the west. In another fifteen minutes, we stumbled upon the darn PCT again as it doubled back on itself around the end of a ridge. We continued west, climbing over small ridges composed of relatively stable toaster oven-sized blocks of gray, angular igneous rocks (andesite?) and passing through shallow drainages full of basalt cinders, rust-red and full of vesicles.
We finally hit the ridge that 75 Scrambles recommends, with more of the same rock-hopping and scree-climbing. At one point, a small, light-colored bird of prey landed on top of a pine across the drainage. When it flew, we could see its square tail; because of its tail, narrow wings, and light color, I'm going to guess it was a juvenile kestrel, even though all the kestrels I've ever noticed have been vibrantly colored, easy to identify, and located at an elevation of around 500 feet.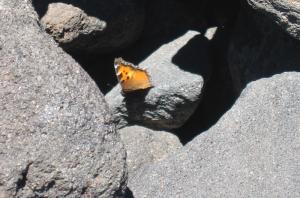 When we left the mountain hemlocks and lodgepole pines behind to climb up a slope of blocks and cinders, a large patch of snow to our left, the wind suddenly blew butterflies against our faces. We stopped to look, and hundreds — no, thousands — of orange butterflies flitted, perched in the lee of rocks, and blew across the ridge, sometimes colliding with us. With a little research, I've decided that they were tortoiseshell butterflies, which have population explosions some years. Apparently, it's not uncommon for the butterflies to make it two vertical miles above the ocean, either. I've never before encountered so many butterflies that I could HEAR their wings, even with the wind whistling enough that I feared my hat would fly down 2000 feet to the meadows below.
Larry and I climbed to the false summit, elevation 8421 feet, and lunched in the lee of a constructed rock wall. This is where Chris and I turned around two years ago. The corniced snow along the ridge, coupled with the steep windward slope that we considered walking across, proved too much for my then-pregnant sensibilities. With crampons and an ice axe, it could have been done — but maybe not by us, at least not with a 25-week-old fetus in there. But Larry and I continued on.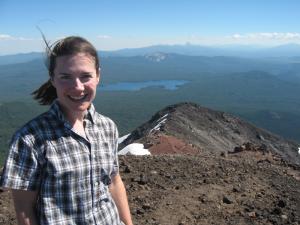 The first few hundred feet off the false summit narrowly skirt some bedrock pillars, so I know Chris and I decided wisely. Then the trail climbs easily another 300 feet to the actual summit, where we found a red coffee can trying to protect a broken glass jar stuffed with a full notebook, business cards, and Clif bar wrappers acting as an extended summit register. We enjoyed the panoramic view, including the Three Sisters to the north and Mount Thielsen and Mount Bailey to the south. To the northwest, clouds blanketed the sky at about 8000 feet, just below us. After snapping some photos (see below), we left the summit at 4 p.m.
We hurried down, concerned that our partners would be concerned about us. We passed two parties going up – one couple with a dog and one solo man — near the false summit; it was 4:15. With a skier's perspective, versus a climber's perspective, it was easier to see where all trails converged and headed down, and we followed the obvious climbers' trail, marked with cairns and orange and pink plastic flagging tape — well, now it's just marked with cairns. It's a Wilderness Area, folks. Pink flagging tapes dismayed us. My hubby would have been proud (he calls flagging in wilderness "litter" and deals with it accordingly). And, let's be fair, the trail was VERY obvious. Now here's why we hadn't seen it: The trail dumped us on the Pacific Crest Trail, north (yes, toward Canada) of where we'd decided to go cross-country again on the way up. So we hiked out on the PCT to its junction toward Marie Lake, then walked to the car, occasionally berated by stellar jays. We stopped along the gravel road to snap a photo of our mountain where we'd snapped one on the way in — but our mountain was gone! Clouds obscured the summit all the way down to Diamond Rockpile, elevation 5110 feet. We bought some salty chips in Oakridge and headed home, where all of our loved ones were already asleep.
For your amusement: