Dear Sylvan,
A whole decade. 3652 days. In 2005, those days were filled with swaddling, swaying, and shushing. In 2015, it's more like skateboarding, screaming, and…still shushing. You've just wrapped up the ten years of your life when you will change the most, growing from a frustrated, crying, 7-pound infant to a smiling, small but sturdy, whip-smart adventure boy. I am so grateful for the change!
In June, you and I headed up Black Crater near McKenzie Pass. It's 7.6 miles with 2500 feet of elevation gain, all on good, wide trail. After two miles of climbing, you admitted you weren't sure you could do this, that this would be the longest hike you'd ever done. I assured you that you could do it, but told you we could turn around at any point. Then, you just kept walking; we chatted about what to do if you have a medical emergency while hiking, which you took appropriately seriously. At the summit, we took ample silly photos of ourselves with the Cascade volcanoes magnificently arrayed behind us. I suggested that we trail run some of the way down. You took the lead, running parkour-style off of logs, and I had to really run to keep up—I don't think I always did!
We just gave you a skateboard for your 10th birthday, and you are the level of excited that every parent dreams a gift will impart. Yesterday, we brought the board and parts back into the shop to have it put together, and you chose grip tape for your board that has a kitten chasing a butterfly with a rainbow in the background. That illustrates perfectly how little you care what others think of you. You love the grip tape, and that's that. The long-haired 25-year-old woman helping us was suitably charmed.
As she stuck down the grip tape and screwed on the trucks, she asked you questions about your summer and about school. When she asked your favorite subject, you had a hard time choosing between Games and Math. That sounds about right. Games class appeals to your active side, the one that admires your friends for their speed and agility, the side that is constantly ranking you and your friends according to athletic ability. Math comes naturally to you (although I may not want you to read that until you understand that having a growth-mindset, especially when things come easily, is invaluable to your future learning). Math appeals to both your logic and also to your outside-the-box creativity, making challenging puzzles fun for you. I know you're also looking forward to woodworking, hand-working, and playing the viola this year in school (one of the things I really appreciate about your school is that I couldn't teach you any of those things, unlike the curriculum in a typical 4th grade). You seem to really enjoy going to school; before school started, you said you were excited to see your friends again, that not seeing them was your least favorite part of summer.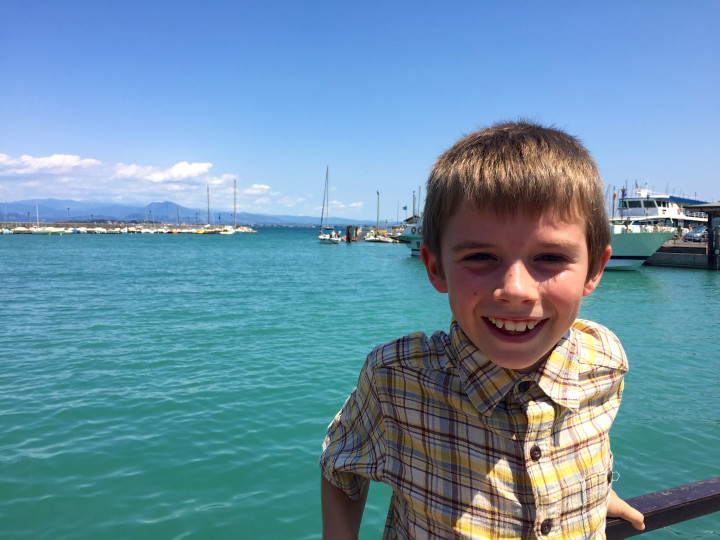 Other things you are right now:
Learning to be empathetic
Largely even-keeled, unless you feel unfairly blamed
Sometimes a wild beastie, padding around the house on all fours
Appreciated by other parents, who say things like, "I love that kid." They can't hear the loud noises you emit prior to 7 a.m., before I've had my coffee.
A reader! I can't believe the number of pages you plow through. I'm just jealous.
Appreciative of Dad jokes. You also analyze them: "Mom, I don't think the octopus ten tickles joke is a Dad joke. It's actually funny."
Taking after your Dad when it comes to the satisfaction you get from getting rid of stuff
A holder of hands, if only across streets, and completely unconsciously and unself-consciously
Ten years. I could have gotten four Master's degrees, read 250 books, climbed 400 mountains, become a pretty damn good fiddle—and guitar—player, and learned Italian and Spanish fluently. Instead, I had you, you adorable devil. And, as much as I have been known to whine about a decade of stay-at-home parenting, I couldn't be happier that you are my dear son. This next ten years, though—the ones where you spread your little wings into the big, wide world and find other people to love—I'll be climbing mountains and working on my Italian, in between sessions of lying on the couch reading Moby-Dick.
Love,
Mom