Dear Sylvan,
As I was looking at photos of you from a year ago, I expected to see not much difference from last year to this, to see a boy who was just a little smaller, a little rounder then. That's true, but those changes make a big difference. You look decidedly different now—longer, leaner, toothier. A third grader, more than halfway through elementary school.
Your Dad and I filled out a questionnaire for your new 3rd grade teacher, Janine, whose first question for us was what you like and enjoy. We wrote something to the effect of: reading books, dressing up in costumes, chess. I looked at your Dad and said, "He's going to play D&D when he's a teenager, huh?" Well, yes, except it won't be D&D but the fantasy game of the age for black-clad teenagers who wear trench coats.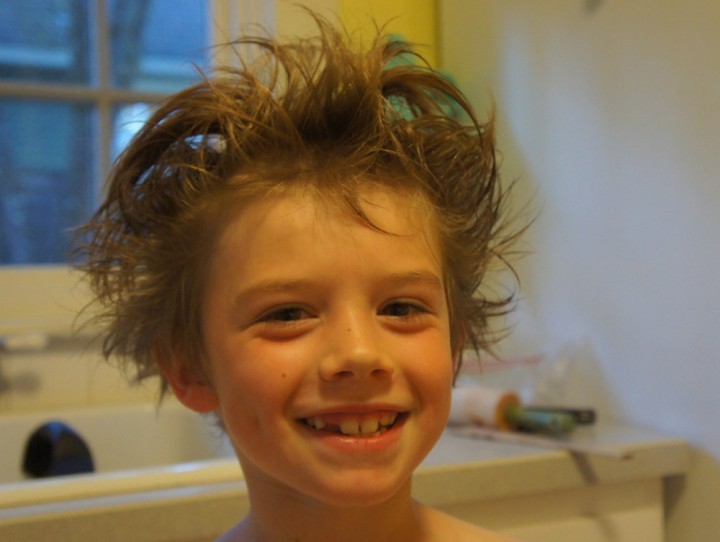 One of your absolute favorite things right now is laser tag. Loud music, black lights, guns with no consequences. I can definitely understand the appeal. Your birthday party was a laser tag party, and consequently we have only a few photos of the party, all from cell phones. Crazy Voodoo Doughnut laser tag party!
You're not only taller with a rock-solid little muscular body right now. Your attitude's changing, too. You're much more willing to have your photo taken, for instance. That might seem simple, but, in the past, sometimes the camera would instigate a foul mood, like so many other things in your life. You still sometimes make silly faces at the camera, but that just shows your personality. You rarely stare sullenly at the camera anymore, willing it away. You rarely stare sullenly at anyone anymore. You're still not Little Mr. Sunshine, but your subtle gentle humor is more likely to emerge to defuse stressful situations than your whiney little boy voice.
That change of attitude has permeated your actions. For instance, when we were back in Dover for a week at the end of August, I asked you and Elena if you'd like to hike up to the Stone Church one afternoon. Elena—usually up for anything—refrained, but you said, "Sure." You explored the stream, checked out the church, and climbed up to a ledge just outside the church's entrance. When I stopped and talked to loquacious gentleman, you very politely came up to me to remind me you were there, then went out to assemble munitions depots, and repeated that a few times as he talked to me. He and his wife were very impressed with your patience and ability to entertain yourself.
You and your closest friends—Cole, Robbie—enjoy outdoor explorations. I'm happy for their influence on you. While I enjoy living in a place where we can walk to school and to the store, I wish you could explore outside every day, that we lived in a spot where you could. It tears at me, knowing that you won't have that everyday connection with the outdoor world.
That brings me to my biggest concern about you right now: that you don't like school. You didn't even give it a chance this year, before you wept before the first day and said you didn't want to go. I wish I knew what was behind this for you. Is it social anxiety, true boredom, a lack of desire to do hard work, a real belief that you can't do the work?
"Why can't you homeschool me?" you asked. Because I think the social aspect of school is important for you, and because you wouldn't do the work for me. Oh, and because I'd go insane. Don't forget that one. And sometimes it kills me. I could take you out and let you explore outside. We could develop much more emergent curriculum, based on your desires and interests. We would both undoubtedly learn a lot. I want you to love school; would you, if you were homeschooled? Who knows? I do know that I'm going to make it a priority to help you solve your problems around this issue yourself.
And I do know that I love you.
Love,
Mom