Dear Sylvan,
Due to the fact that I'm already six days late with your birthday letter and that I feel like I was run over by a train (or should be run over by a train), this post will be heavy on the photos, light on the "this is what you can do this month" text.
Nonetheless, you are a cool little dude. Here are some highlights from the last month:
You understand that all you have to do is lean your head back not to get shampoo in your eyes. "That's what big boys do," you said. It's too early to recognize this as a truly learned behavior, but it is a big step forward from your amazing aptitude for scaling one of your parents while you're wet and soapy.
You have started to create music bands. Daddy plays the kazoo and you play the drum set, for instance. Your drum set consists of a toaster-oven box, plastic kids' drum, and two tambourines, all of which you play with a plastic drumstick and a wooden dowel.
You have a couple of favorite videos on youtube, animated shorts about Simon's cat. One details what Simon's cat — and all cats, undoubtedly — goes through to wake Simon up in the morning, and the other illustrates how Simon's cat asks to be let in. The first dozen or so times we watched "Let Me In," the crashing sounds cracked you up every time. I recommend these videos for anyone who has ever had a cat, loved a cat, or hated a cat; each is under two minutes long.
Somehow, you've started to think concretely rather than theoretically about the little human in my tummy. Perhaps this amazes me because I'm still in theoretical mode about your little brother or sister. Sure, my tummy's enormous, but maybe it's just a melon. When Daddy told you that your frog towel was too small, you said, "My little brother can use it." You have also pointed to the other seats in two shopping carts as places where your little brother can ride. I hope you're not disappointed if, in fact, it's a sister.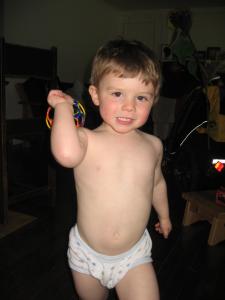 You've really thinned down and sprouted up in the past month. You're outgrowing trousers because they're too short (something that has never, ever happened to me in my life, hence the emphasis). This photo also shows your newly-clippered hair and that I'm-up-to-no-good clenched-tooth grimace, undoubtedly inherited from me.
A week and a half ago, we went to the coast with your friend, Cole, and his parents, the adventurous and super Kari and Nic. We had a blast, and we even slept on beds rather than on the ground. We started off at the aquarium in Newport, where you and Cole read the rules, although I'm not sure you completely understood them: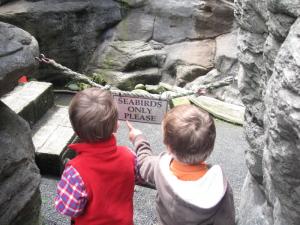 The sea lions and seals share a tank, where they swim laps, sometimes closing their eyes and floating upside down with, I kid you not, smiles on their faces, like furry, aquatic Buddhas. Occasionally one will come right up to the glass to offer greetings, like this harbor seal: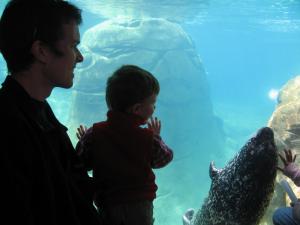 You really liked the tunnel where the sharks and rays swam overhead. Here you are looking like an 8-year-old: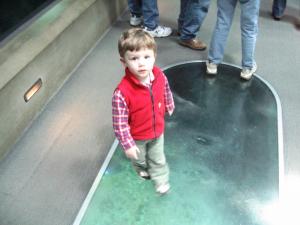 We found out how much you enjoy flying kites. Climbing while kite-flying? Sure: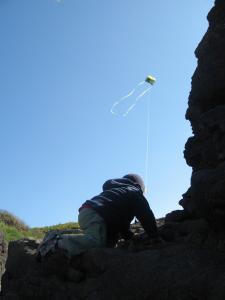 You and Cole enjoyed moving the beach in Yachats two inches to the left: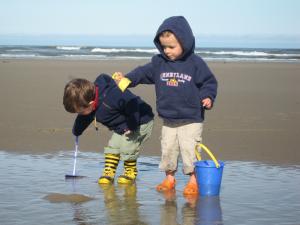 While you weren't as quick as Cole to dive right into streamplay at the beach, you eventually started stomping around in the water. And your initial reticence was well-founded; while I took this photo, Cole was up in the room changing his clothes after a header into a pool that was deeper than the riffles he'd skipped across earlier: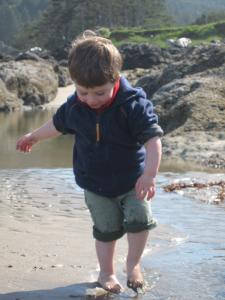 This is fun, but, whew, it's cold. Do people really surf in the Pacific year-round?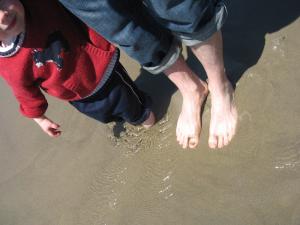 I love you,
Mommy