On Monday, I road tripped up to Seattle to see the Red Sox play the Mariners. I try to make this trip once each summer. Last summer, I had a ticket to a game, but at the last minute, the Amtrak trains weren't running, and I knew that driving both ways by myself was just plain stupid.
I must have gotten stupider in the last twelve months. The road trip, by the numbers:
281: miles driven each way
4: Size of family I met in a Washington McDonalds on the way to the game. They were from Eugene too, were doing exactly the same trip I was, and commiserated with me about the train being sold out.
1.5: minutes I had been out of my car, wearing my Sox hat and my "2004 American League Champions" t-shirt (thanks, Patrick!), when I was verbally assaulted by a complete stranger.
"Are you a real fan?" she asked. "Who's your favorite Red Sox player?" "Carney Lansford," I told her. (If you're gonna hit 'er, make sure she ain't gonna get up.) She was appropriately stunned and took a moment to recover.
She was a bandwagon fan and wouldn't know Carney Lansford (image stolen from the excellent Sons of Sam Horn)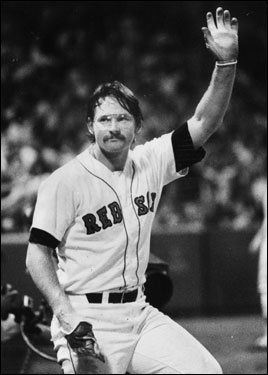 from Justin Timberlake (image stolen from some blog).


But if you say Wade Boggs, you stand a chance of getting spat on. More on that in a moment.
134: Number of hits Carney Lansford had in the strike-shortened 1981 season, good for second place in the AL. Rickey Henderson edged him out with 135. Lansford later played with Henderson on the World Series-winning 1989 Oakland A's (you youngsters and super-geezers know them as the Athletics, formerly of Kansas City and, before that, Philadelphia). But we don't talk about 1980s World Series, do we? Back to that mustache…
.336: Lansford's batting average in 1981, good enough to lead the league that year. I'm sure it was the batting average that I remembered him for. I loved batting average. It was a calculated statistic, as opposed to a counting statistic, one of the only calculated stats used in the sports pages in those pre-internet, pre-SABR, pre-OPS, and pre-WHIP days. I loved little more than sitting at the breakfast table with the sports pages, calculating batting averages based on that day's box scores.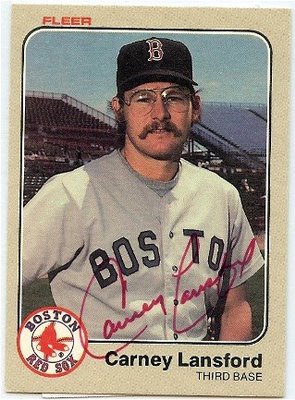 2: Number of years Carney Lansford played for the Red Sox. Here's his Fleer baseball card from his second year, 1982 (image stolen from the very cool but where the heck does he get the time 83F project)
June 23, 1982: The day Carney Lansford sprained his left ankle while sliding into home. He was trying to stretch a triple into an inside-the-park home run in the bottom of the third with the score tied 3-3. I remember watching this game with my dad on my grandparents' TV at Dewey Beach.
Wade Boggs, who had been an occasional player for the first third of the 1982 season, came in as a pinch hitter and third baseman on that fateful day.
.391: Wade Boggs's batting average during Lansford's time on the disabled list. Lansford was traded to the Oakland A's after the season. Boggs went on to win the batting title in five of the next six years. He also led the league in a zillion other categories, including walks, singles, doubles, OPS (in the pre-OPS days), hits, on-base percentage, and intentional walks (one of the great measures of how scary a batter is when it counts).
Wade Boggs, not Carney Lansford, is my favorite Red Sox player ever, never to be surpassed because I'll never be twelve years old again. But you can't tell a casual, unvetted Sox fan that Wade Boggs was your favorite Red Sox player, because he played five solid seasons for the Hated Yankees (currently in last place, but it's May), including the 1996 season in which the Yankees won the World Series. Doesn't matter. Water under the bridge. Boston was a below-.500 team when he left them for dead. He gave the Sox 11 good years and came out with no rings. When he was inducted into the Hall of Fame, he chose to wear his Boston hat on his plaque. This discussion is over.
But I digress.
5:45: Time I got to Safeco Field, just in time to catch Red Sox batting practice, except that I chose to spend…
45: minutes trying to hawk my single left-field bleacher ticket. Lesson learned: nobody comes to baseball games alone, at least nobody who needs a cheap bleacher seat. Loser. And I missed batting practice. Again.
5: dollars the professional scalpers offered me for my $15 face value bleacher seat. The left-field bleachers, the cheapest seats in the house (and good seats for the price), were sold out, but they didn't care.
10: dollars I got for my ticket from a guy who was "hiding from my wife. She thinks I'm down in the basement hooking up the washing machine." He sat next to me, naturally (who was not playing first base tonight), way up in the bleachers, and proceeded to call everyone he knew, drop the F-bomb about 150 times, and complain about his wife to anyone who didn't have Caller ID. It was like sitting next to a half-drunk, 45-year-old, graying-at-the-temples high school girl with a really foul mouth. But hey, I got an extra 5 bucks for my 45 minutes of trouble and got to miss batting practice. She He disappeared after the first inning, leaving me alone in a happy place with two seats' worth of bleacher bench all to myself.
1: number of friends I saw at the game. I ran into Laurie Matthews and her mom. The last time I had seen Laurie was at Fenway Park on April 15, 2005.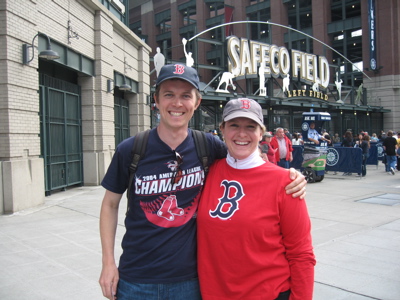 3: Minutes before the start of the game that I called Patrick. I left a message on his phone consisting of most of the national anthem. He knows when to yell "O!"
2: Number of perfect innings pitched by Bartolo "I'm really quite large" Colon to start the game.
3: Number of perfect innings pitched by Felix Hernandez to start the game.
5: Members of the ground crew who did a dance number to a Michael Jackson song between the third and fourth innings. What is this, the Toledo Mud Hens? I thought this was baseball.
420: Approximate number of feet David Ortiz hit a baseball in the fourth inning to break up Hernandez's no-hitter. A monster.
55: minutes it took for both teams to play through the middle of the fifth inning, halfway through the game. That's unheard of in the 21st century. Most games take well over three hours these days.
11: Number of Ichiro's body parts, including three parts of his face, that hit the center-field wall simultaneously when he caught a rocket off of Jason Varitek's bat in the 5th inning.
Ichiro made a running-flat-out, over-the-shoulder catch of Varitek's fly ball while jumping up and crashing into the wall. This wasn't your everyday well-timed leap to grab a ball at the top of the wall, either. The hit was a line drive, so Ichiro was running straight at the wall, jumping toward it, not parallel to it. He crashed into the wall with his hands, feet, knees, and face, caught the ball at waist level while facing the wall, fell on his back, rolled over backwards, and then threw the ball to his relay man (there was a base runner on first base) before collapsing face-down on the dirt. It was like Willie Mays out there; if you had seen it, you would have agreed. Ichiro got a standing ovation when he managed to stand up, and he got another one at the end of the inning.
3:1: Ratio of Red Sox fans to Mariner fans in the crowd. This bandwagon is full, folks, but hop on anyway. The one with the long hair is Manny. He always has that look on his face.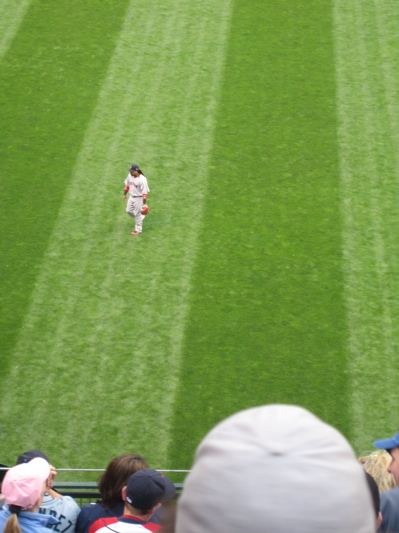 Go ahead and start your "Let's Go Red Sox" chant. The Mariners fans might just barely be able to drown you out. Just don't go trying that in the Bronx. You have been warned.
80: minutes it took to get through six innings. Still on track for a two-hour game. Amazing.
2: Ugly jams that Bartolo "If I were any larger, there would be two of me" Colon pitched out of in the 3rd and the 7th. The one in the 7th was partially self-induced: he was either unwilling or unable (I don't know which is worse) to bend over to pick up a slow roller that came past the mound. By the time the shortstop got to it, the batter was well past first base. Dude, ease up on the buffet.
4,600: Speaking of the buffet, the approximate number of calories I consumed during the road trip. The damage: one hard-boiled egg, two slices of pizza, three 12-ounce Cokes (must. stay. awake.), one chocolate milkshake, one Filet-o-Fish with dollar fries, eight strawberries, one basket of garlic fries (with one tiny apple slice), four ounces of mozzarella cheese, sixteen ounces of chocolate milk. One unhappy tummy all day Tuesday.
1: Clutch double by Dustin Pedroia in the eighth to break the 1-1 tie. It landed right under where I was sitting as it bounced over the wall. Hernandez followed this crushing blow with an intentional walk to David Ortiz — to get to Manny. This has always been a dubious tactic, and I don't know why teams keep trying it. It just makes Manny pay attention. Manny singled, followed by Lowell and Drew, and then Hernandez walked in a run.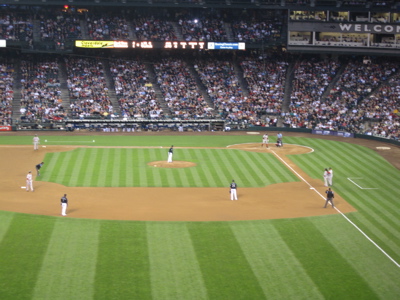 4: runs, just like that, and Hernandez was done, an inning too late.
7: innings after which Bartolo "Don't make me walk all the way out to that mound again, please Tito" Colon hit the showers, a smart move by Francona. Colon was getting tired.
5-3: The final score, but more importantly, the scoring on a remarkable double play.
With runners on first and second and no outs, Dustin Pedroia hit a roaring grounder to Beltre at third base. Beltre dove to his right, caught the ball across his body with his left hand, and fell on his knees.
He speed-crawled two steps and tagged the bag with his glove hand for the first out, then stood up, still moving to his right into foul territory, and threw across the diamond to first base to cut down Pedroia at first.
This and Ichiro's catch were, hands down, the best defensive plays of the game.
111: miles I drove in Washington before I had to pull over and sleep at a desolate but welcome rest area in southern Washington (next rest area: 42 miles)
2.5: hours of sleep I got in the back of our VW Golf. Also the length, in hours, of the game. Pretty short by today's standards, but it did not live up to its early promise.
50.1: Miles per gallon the Golf got for the trip. 100% biodiesel at $4.99, which sounds expensive, except that it's just ten cents per mile. Good car.
Stupid? Yes. Worth it? Yes.