Enough time has passed that I finally feel I can post a photo of my Halloween costume. It's just that, you know, my Dad reads this site. But, hey, I'm the one who stepped out of my house half-naked with balloons in my shirt (sorry, Dad); no coercion necessary.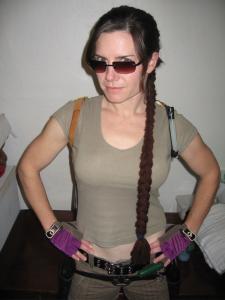 I've wanted to be Lara Croft for Halloween for some time now. And, well, to give you too much information, breastfeeding really takes off the pounds, taking me back on the scale to 11th grade. This was my chance, before my body realized that it wasn't covered with the friendly layer of baby fat I've worn for all but the years between 13 and 19.
The costume has knee-high black heeled boots, too, but I have to draw the line somewhere.