The bad news: Sigh (If you're reading this after 5/6 or so, my prediction – hope? – is that I won't be sighing so loudly.).
The good news: My husband is happy. And my sister. And Uncle John. And Chris's Dad, Tom. And all of Boston, that scrappy little town.
The good news: Someone has even written a wikipedia entry for yesterday's inaugural Eugene Marathon. And the weather was perfect. And we cheered on our friends, offering them beer. And Sylvan got to say "runners" and "running dues" (shoes) again and again.
The bad news: Oh, that one guy with the chafing. Ow. And the fact that we didn't run. A chance missed.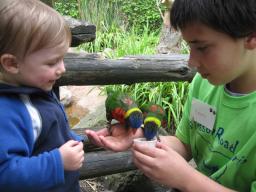 The bad news: I don't think I'll ever figure out how my mother-in-law, Diana, can take close-up, active, happy photos of Sylvan when she's the only one with him. How does she get him to smile instead of running away, chasing the pigeons?
The good news: Sylvan's cute enough that it doesn't matter if I merely record quick snapshots of our experiences. Here, Kenny, a fifth grader and new friend, offered Sylvan the chance to touch the screeching lorikeets. Sylvan did, with some coaxing.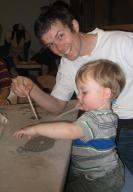 The good news: The Children's "Museum" in Portland is the World's Greatest indoor playground: outrageous indoor water play, a dig pit filled with shaved rubber instead of diaper-finding sand, climbing structures, clay sculpting, train sets, crannies in which to hide, and a pint-sized supermarket. Yippee!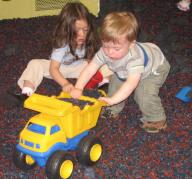 The bad news: We could have just spent $3.50 and rode around on the light rail all day. Sylvan needed to sit in his own seat, flailing his arms for balance when the train braked in a manner that would have made even his grandparents laugh. Highlights included tunnels and young women with pink cell phones.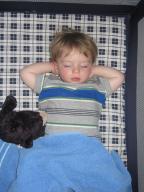 The best news: Zzzzzzzz.
The news: Tephra has "naked feet."
The good news: She doesn't seem to mind.
The bad news: $1800 for plane tickets to Italy!?!
The good news (with the bad): We need to see Glacier National Park before all the glaciers melt, anyway.
The good news: Mommy's running again!
The bad news: Mommy's running again.