Kids' lunches packed? Check. Air in bike tires? Tire patch kit? Sport chews that are really candy with salt in them? Check, check, check. Kids' swimsuits in their backpacks? Check. Phone numbers in cell phones for YMCA (where both kids will be by 1 p.m.) and kind friend who agreed to shuttle boy-child to YMCA? Yupper. Caramel latte for the mom who's given up caffeine? Do you have to ask?
And we were on the road by 9 a.m.! Date birthday! Life is so good.
Aided by my caffeinated caramel latte, I chatted for the entire drive up the McKenzie River, my patient husband nodding and agreeing and even offering opinions every now and then. We started the bicycle part of our adventure at White Branch Youth Camp, site of many near-misses while snow tubing with fellow grad students in the late 90s. I have no idea how we survived that CCC-era ski slope converted to a tubing hill. So steep and fast and icy! White Branch is about four miles, and nearly 1200 vertical feet (at 2440 feet), below where I've started this bike ride up to McKenzie Pass on the old McKenzie Highway before. So help me.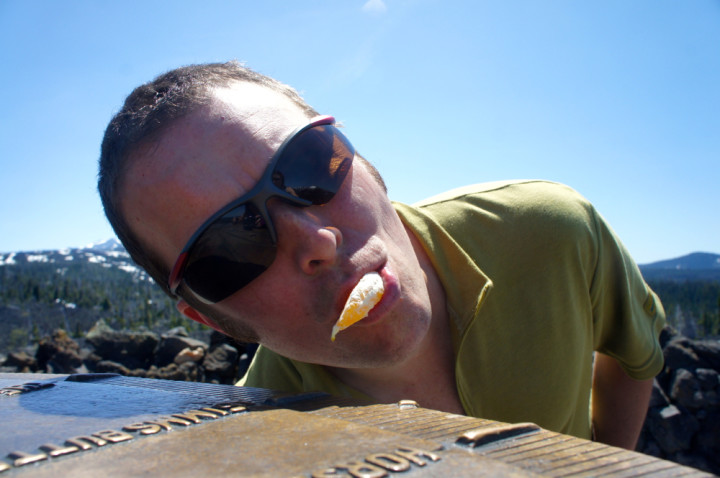 While those first 1200 feet and four miles were rough, after I relocated my (daughter's) backpack from my back to my handlebars and lay stretching on the asphalt, my journey improved dramatically. From Alder Springs Campground—where the second snow gate was still closed, thus ensuring a car-free journey to the Pass—the road hairpins through tunnels of Douglas fir, hazelnut, western hemlock, and sword ferns, climbing 1100 feet in the next five miles. We had run into my friend and sometimes adventuring partner, Suzanne, and her friend, Bruce, who'd started a few miles below where we started. Powered by catching up, Suzanne and I forgot about the hills. Once we reached the top of the switchbacks, the last seven miles, which climb 700 feet to the Pass, felt like a cruise. The road opens up into long, open straightaways punctuated by small climbs past meadows, vernal pools, and trees getting progressively shorter.
Then, there's the lava, flows from Belknap and Little Belknap Craters that created the strange and lumpy landscape of McKenzie Pass. We passed lava tubes and nunataks—islands of forest the lava flowed around. In the last couple of miles before the Pass, views open up to North and Middle Sisters, just 6 miles southeast of the highway.
Around the corner, we reached Dee Wright Observatory, which is really a fairy castle constructed of lava. That meant we were at the Pass and I could eat more "sport chews" and stretch my back again. There was a rotating cast of perhaps 15 cyclists at the Pass while we were there, including three preschoolers and a Kindergartner whose strong dads had pulled them up the hill. I'm so soft.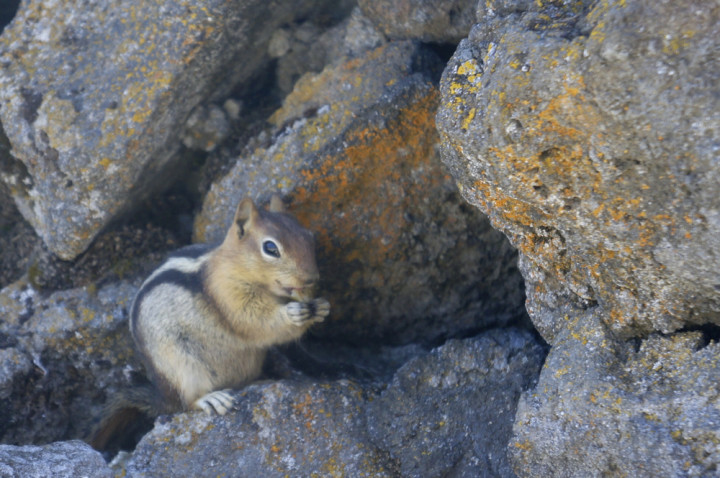 After some ground squirrel photos and a divine cheese plate (well, gnawing on a hunk of cheese and taking bites of crackers tastes like a divine cheese plate when you've earned your lunch), we re-helmeted up for the ride down. Downhill! While my mortality weighed on me as I squeezed my brakes around the first few turns, I eased into it, and pretty soon 30 mph (more?) felt thrilling rather than terrifying. One or two of Chris's spokes broke on the ride down, and Suzanne's brake pads were shot, so the two of them limped back down while I was able to completely appreciate the wind whistling in my helmet. I reached the car first, but my dear husband suggested I keep riding, that he'd eventually pick me up. Our relative speeds were so similar that he didn't catch me. I stopped because I reached Highway 126 and didn't want to ride with more and faster traffic.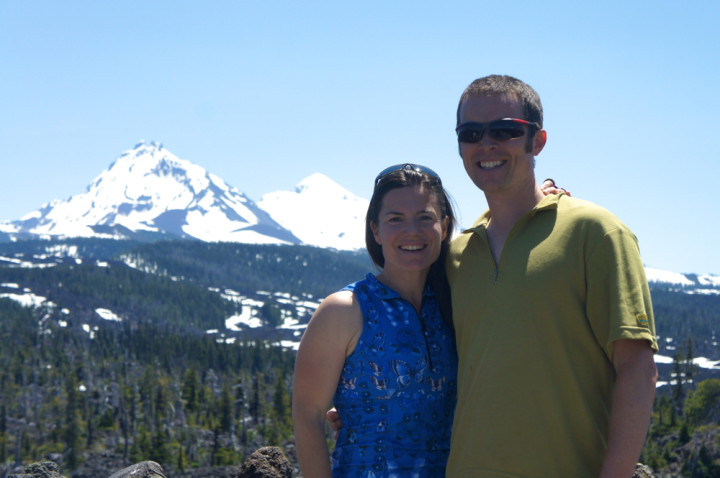 Chris drove home until he said, "I'm tired. Wanna drive?" He was snoring in the passenger seat before I started the car.