Very rarely is the sky completely clear for a meteor shower in western Oregon. We've been skunked even during the relentlessly clear summers we brag about—sometimes by smoke, sometimes by fog, always by light pollution if we don't have the energy to go farther afield. But, when the forecast is for 22°F at 4 a.m., you can bet it's going to be clear.
One cold, November night in New Mexico, 13 years ago, I woke up in my sleeping bag and happened to look at the sky as I was falling back to sleep. One of the benefits of eschewing a tent is that you may just wake up on the night of the Leonids meteor shower, which you didn't even know existed, and have difficulty returning to sleep because you wouldn't want to miss a meteor.
We couldn't see the Perseids last summer due to the weather; might we be able to catch the Leonids? First, I convinced my kids that waking up at 4 a.m. would be an adventure. If they gathered warm clothes before bedtime, maybe we would wake them up and try to see some meteors in the "morning" (term used loosely). My darling husband was only a slightly harder sell. I was surprised, because he likes his sleep. After a little dark sky and clear sky research, we decided to head east toward Oakridge, stopping at the east end of Lookout Point Reservoir, just across the railroad tracks in a grassy parking area. While we could hear traffic (and even see it if we weren't looking at the sky), our location-picking was right on! It was dark, clear, and close to Eugene.
While I recommend the location, I also recommend arriving longer than 60 minutes before civil twilight. It just wasn't dark enough for long. The real problem, though, was that this just isn't a big "storm" year for the Leonids. Apparently, every 33 years or so, the Leonids can produce hundreds of meteors each minute. In 1833 and 1966, the Leonids produced spectacular storms. From my sleeping bag in the Gila National Forest, 2001 was impressive, too. Chris and I saw one meteor this morning; the kids missed it. But, snuggling in sleeping bags and drinking hot cocoa, they didn't care a bit.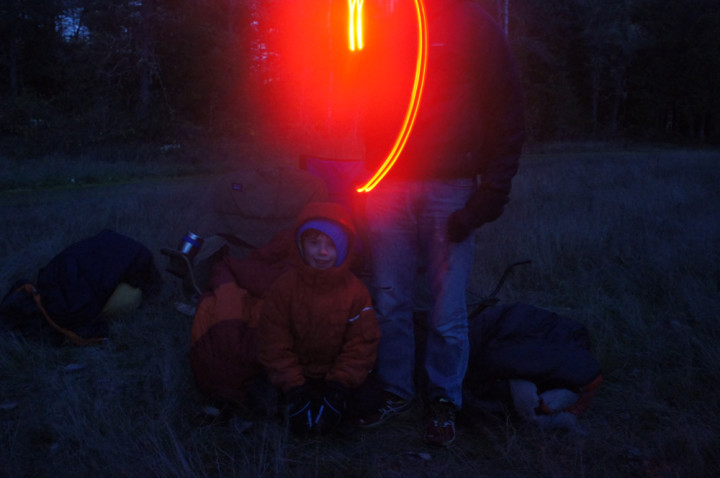 Tomorrow morning's show might be even better, since the moon rises nearly an hour later. Go ahead; go on an adventure! A word to the adventurous, though: if you head out on a 22°F night, sleeping bags and hot chocolate aren't merely nice to have; they're a necessity.
(Please don't tell my kids' teachers that I woke them up at 4:25 a.m….They were just so game for an adventure, as my patient husband pointed up when he roused the kids at oh-dark-thirty.)