Dear Sylvan,
You're 91 months old! I remember figuring out when I would be 100 months old. If you don't bring it up first, I'll tell you next January. You'll ask for cinnamon rolls to celebrate, because, hey, it's an excuse to have sugar!
Last spring, at just about this time, we met with your Kindergarten teacher, Miss Polly, who suggested that you be tested for skipping a grade. Even though you were old for your grade, we hadn't considered this. As the evidence mounted—who you played with on the playground, your math scores, your September birthday, your reading skills—it just made sense. So, with some consideration, we decided, along with your teacher, that you should enter 2nd grade this year. It turned out to be a very good choice for you. The academics are a good fit for you, and you have a gentle, calm teacher, Miss Laura, who's helped you become a mellower, calmer human being.
You often jump into play in the preschool classroom when we pick up Miss Elena, who is always finishing up her snack (because she's a good eater and a good talker). The other day, while you were helping to put away some train tracks, you started to take one from a little boy, thinking he was handing it to you because you were closer to the bin. He yowled, and you just stopped, not even responding to his outburst, and continued putting other tracks and blocks away.
You've reached a point in your evolution as a human that, when you are a bit wronged, you brush it off. I especially appreciate this in your interactions with your sister. When you step back and don't escalate a tense situation, I want to hug you (but if I did, you'd make a noise like this: whiny "ehhhhr," and pull away). In fact, I want to hug you a lot, but that's not your preferred intimate gesture; you prefer a back-scratch.
You love: laser tag, chess, Stratego, facts, pretending to be different Harry Potter characters/rainforest animals /Bearbarians warriors, playing in the waves, downhill skiing.
You are good at: being yourself without being at all concerned about what others think, spelling, math, reading long and complicated books (You just finished The Hobbit by yourself on the way back from Hawai'i; I still haven't read it because it's so long and complicated.), and chess (You're playing in tournaments, and your goal for the last one was to gain a higher point value—based on wins, losses, and draws—than your last tourney. You did it!).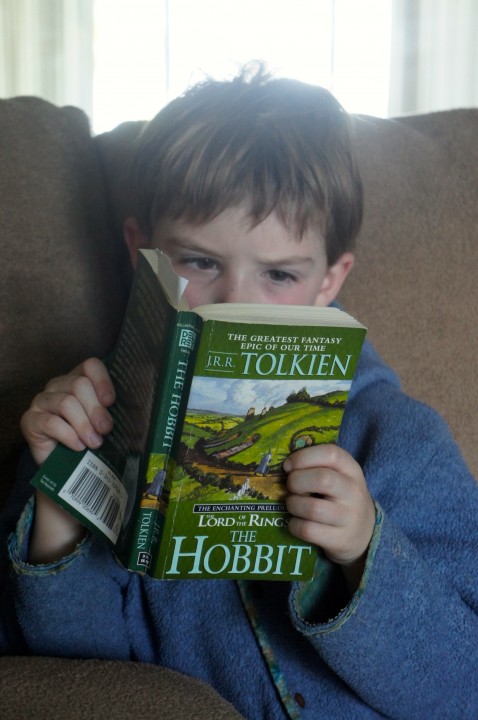 You are nervous about: team sports (but you play football with the boys every day at lunch), some other athletic endeavors where you feel your peers are bigger and better, and I don't know what else. I know you have concerns and anxieties that I don't hear about. As you slowly climb toward middle school, you will share with me less and less. I think this is why I need to stop, slow down, and just listen to you. We need to chat about nothing that matters so that we can chat about what does matter when you want to share it.
I love you,
Mom
Update 15 April: You were very fun to watch in your soccer game yesterday. You went directly to the ball and were scrappy. If the ball was anywhere near your section of the field, that ball touched your foot. You had some great steals yesterday, and you smiled the entire time. It was very joyful.
And the two lasting verbal kid mis-speaks that I still love to hear you say are "pacific" for "specific" and "care-UC-ter" for "character."